Rohit Sharma (India). 597 runs @ 54.27, one century, three fifties, strike-rate 125, highest score 131: Reinvented himself as a berserker at the top of the order and boomed more sixes – 31 – than any other player. Left holding back the tears at the end, The Hitman is unlikely to ever be a 50-over World Cup winner but will unquestionably go down as an ODI great.
Quinton de Kock (wk) (South Africa). 594 runs @ 59.4, four centuries, SR 107, HS 174, 19 catches, one stumping: This was a fine swan song in ODI cricket for doleful De Kock; the highest number of runs in a men's World Cup from a wicketkeeper-batter and, as ever, compiled in such utterly butterly fashion. Those gloves deny Travis Head a spot here, a call that possibly compares to this correspondent's pre-tournament predictions.
Rachin Ravindra (New Zealand). 578 runs at 64.22, three centuries, two fifties, SR 106, HS 123*: The portmanteau first name thing was apocryphal – not a deliberate blend of Sachin and Rahul – but everything else about the 24-year-old was the real deal. And one could very well come at the next IPL auction, those three centuries scored in such breezy, untroubled manner as to suggest a star may have been born. Tremenderful.
Virat Kohli (India). 765 runs at 95.6, three centuries, six fifties, SR 90.31, HS 117: It was a case of Kohli followed by daylight in the run-scoring charts, India's icon doing it for the technicians in a world tipping towards T20 cricket and overtaking Sachin Tendulkar's record 49 ODI centuries in the process. We need to savour every last drop which, given the time it took to depart the crease in the final, is a sentiment he seems to share.
Daryl Mitchell (New Zealand). 552 runs at 69.0, two centuries, two fifties, SR 111, HS 134: Until Head broke the hearts of a nation, Mitchell was the only man to make a century against the mighty Indian attack; to ram home the point, he did it twice. Ran out of gas and support trying to climb a mountain in the semi-final but those straight sixes – including the biggest of the tournament at 107 metres – were special.
Glenn Maxwell (Australia). 400 runs at 66.6, two centuries, SR 150.37, HS 201*, 6 wickets @ 55, economy, 4.81, best bowling figures 2-34: The cramp-riddled carnage that was his match-winning 201 not out in Mumbai booked his spot here, Maxwell shaking off his golf cart incident to leave Afghanistan seeing stars. But his value ran deeper, those thrifty off-breaks gold dust for a captain with one frontline spinner and the removal of Sharma in the final a key intervention.
Ravindra Jadeja (India). 16 wickets @ 24.87, economy 4.25, BB 5-33: A near-identical record to his fellow left-armer, South Africa's wonderfully understated Keshav Maharaj, Jadeja's fielding prowess and the need to prevent a diplodocus tail tips the scales here. The latter kicked in when he guided his team home against New Zealand in Dharamsala, while those thrifty, probing tweakers were central to the Indian machine.
Pat Cummins (c) (Australia). 15 wickets @ 34, economy 5.75, BB 3-51: This spot was shaping up as an agonising decision between South Africa's feisty Gerald Coetzee or a left-arm angle of either Dilshan Madushanka or Mitchell Starc. But Cummins nipped in after the final, not simply for the impresario captaincy display on the day and the pivotal Kohli wicket but ice-cool leadership throughout. A champion.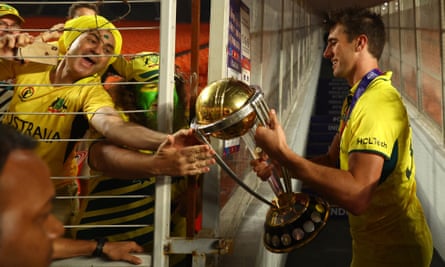 Adam Zampa (Australia). 23 wickets @ 22.4, economy 5.36, BB 4-8: Initially looked exposed as Australia's sole full-time spinner in a subcontinental World Cup but went on to equal Muttiah Muralitharan's record of 23 wickets in the men's tournament. Wickets came in clusters, while the control he offered Cummins was summed up by his two outings in Ahmedabad, shipping just one boundary across 20 overs.
Jasprit Bumrah (India). 20 wickets @ 18.65, economy 4.06, BB 4-39: That bullwhip bowling style asked so many questions of India's opponents during their scorching run to the final, those fizzing, snaking deliveries delivered from beyond the perpendicular among the most thrilling spectacles of this tournament. That such a menacing bowler smiles throughout is pretty cool too.
Mohammed Shami (India). 24 wickets @ 10.7, economy 5.26, BB 7-57: Shami started out warming India's bench and ended up with an absurd set of numbers. Stood as upright as that seam in the semi-final against New Zealand, with a harrowing drop off Kane Williamson – one that might have floored lesser characters – followed by the best bowling figures in a men's World Cup knockout match.