King Charles is choosing to keep calm and carry on — but some royal experts believe the monarch needs a new strategy quickly before his coronation.
During the Commonwealth Day service at London's Westminster Abbey, the 74-year-old faced a group of protestors from the anti-monarchy group Republic holding yellow signs that read, "Not My King."
The group has increased its activity in the U.K. since Queen Elizabeth II, England's longest-reigning monarch, passed away in September at age 96, Newsweek reported.
"When the queen was crowned in 1953, the mystique of the monarchy was still very much intact," Christopher Andersen, author of "The King," told Fox News Digital. "The world just watched in wonder as the ancient and awe-inspiring ceremony took place. All that has been ripped away by decades of scandal and controversy."
"The crown has been dented and tarnished by so much headline-making turmoil over the years," he shared. "This king can only pray that at least his coronation will come off without a hitch. Even if it does, the honeymoon period, which really began with Elizabeth's death, won't last much longer."
Republic plans to protest the coronation on May 6.
MEGHAN MARKLE, PRINCE HARRY'S FROGMORE COTTAGE EVICTION AN ACT OF REVENGE FROM KING CHARLES? EXPERTS WEIGH IN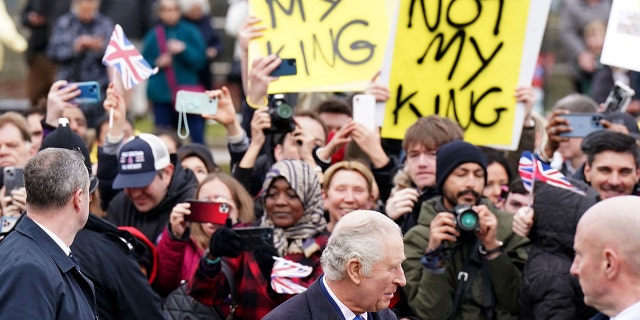 "We want to see the monarchy abolished and the King replaced with an elected, democratic head of state," Republic announced on its website. "In place of the King we want someone chosen by the people, not running the government but representing the nation independently of our politicians. It's simple: Hereditary public office goes against every democratic principle. And because we can't hold the King and his family to account at the ballot box, there's nothing to stop them abusing their privilege, misusing their influence or simply wasting our money."
"Meanwhile, the monarchy gives vast arbitrary power to the government, shutting voters out from major decisions affecting the national interest," the statement continued. "The King can only ever act in the interests of the government of the day and does not represent ordinary voters. The monarchy is a broken institution. A head of state that's chosen by us could really represent our hopes and aspirations – and help us keep politicians in check."
In February, the king ignored protestors during a royal engagement. Instead, he shook hands with people who came out to see him. While about 20 protestors held "Not My King" signs, others chanted "God Save the King" in support.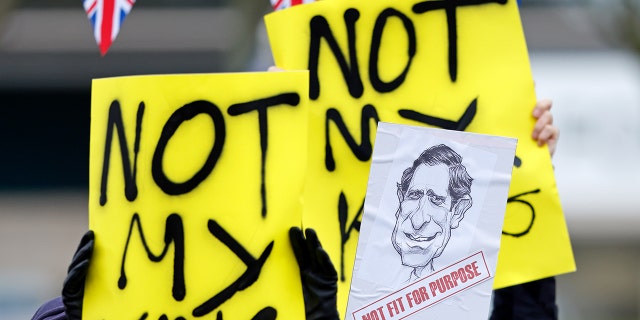 In December, the king kept his cool during a walkabout in Luton when an egg was allegedly hurled in his direction. A month prior, a 23-year-old man was arrested after eggs were thrown in the direction of Charles and Camilla, the queen consort, during a visit to York. The man was later released on bail.
"… It will be somewhat embarrassing for all the royals," said Andersen about the unavoidable protest to come. "I still have a hunch that the crowning of Camilla will also not go down well. Nevertheless, much of that will be drowned out by the excitement of what is undoubtedly a historic, once-in-a-lifetime moment."
While it is unlikely that Charles will acknowledge the hecklers, Andersen noted that Charles can't ignore the larger conversations that are taking place within the Commonwealth realms.
CLICK HERE TO SIGN UP FOR THE ENTERTAINMENT NEWSLETTER
"Keeping the Commonwealth together was a top priority for the late queen, and in the years before her death she lobbied every Commonwealth member on her son's behalf," Andersen explained. "It was not a foregone conclusion that Charles would head up the Commonwealth. Just as Elizabeth II had earned the affection of her people, Commonwealth member nations, which make up one-third of the Earth's population, felt a real connection with her. Not so much with Charles. As a result, real cracks have begun to show in their allegiance to the crown."
"Barbados became a republic In 2021 and as a result fired Britain's monarch as its head of state," Andersen pointed out. "There are similar rumblings in places like Australia and Jamaica, where Charles remains king-for the moment. The citizens of those Commonwealth nations have to feel as warm and fuzzy about Charles as they did about his mother if the whole thing is going to work, and it remains to be seen if that will happen."
While some want the monarchy abolished altogether, others would prefer younger faces. Andersen noted that for years, many have advocated for Prince William and his wife Kate Middleton to skip the line of succession.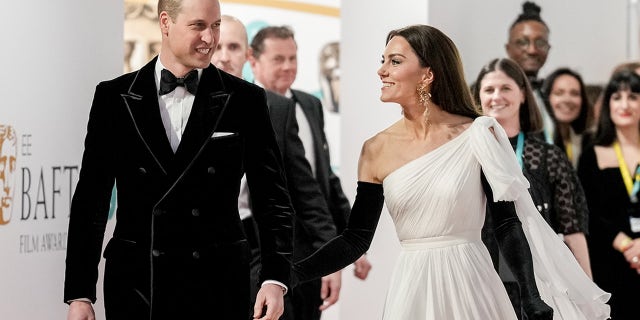 "Look, it's no secret that a significant portion of the British population would love to see William and Kate on the throne," said Andersen. "But that's not about to happen, at least not for a long time. The younger royals still play a vital role in shoring up the monarchy's popularity, and that's why it's such a pity that Prince Harry, Meghan Markle and their young family are no longer part of the equation."
"Charles has to find a way to bond with his subjects just as his mother did and Elizabeth's father Edward VI did before her.," he shared. "Anyone who ever saw 'The King's Speech' knows how tough it was for the last king. To many people, particularly the young, Charles may seem stiff, out of touch, and increasingly irrelevant."
Kinsey Schofield, the host of the "To Di For Daily" podcast, told Fox News Digital that Charles' popularity has been rocked by the Duke and Duchess of Sussex's tell-alls.
OPRAH WINFREY GIVES ADVICE ON WHETHER PRINCE HARRY, MEGHAN MARKLE SHOULD ATTEND KING CHARLES' CORONATION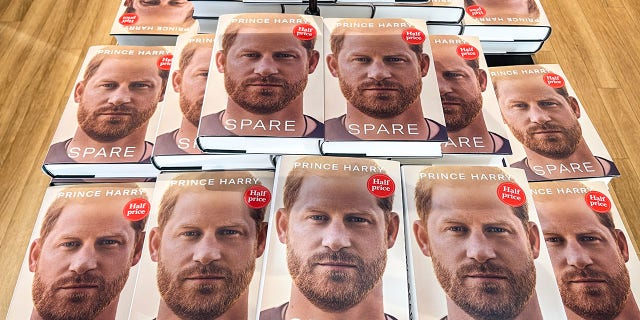 After the couple released a six-part docuseries on Netflix that detailed their struggles with royal life, Harry wrote an explosive memoir titled "Spare," where he further criticized the royal family. While promoting the book, the 38-year-old accused the queen consort, his stepmother, of leaking private conversations to the media to burnish her own reputation. He singled out the 75-year-old's efforts to rehabilitate her image with the British people after her longtime affair with his father.
"That made her dangerous because of the connections she was forging within the British press," Harry told CBS. "There was open willingness on both sides to trade information. And with a family built on hierarchy, and with her on the way to being queen consort, there was gonna be people or bodies left in the street."
The father of two repeated his claim that there was "concern" in the royal family about his son's skin color after he married Markle, a biracial American actress. The couple first mentioned the incident to Oprah Winfrey in 20221, but they haven't identified the family member in question.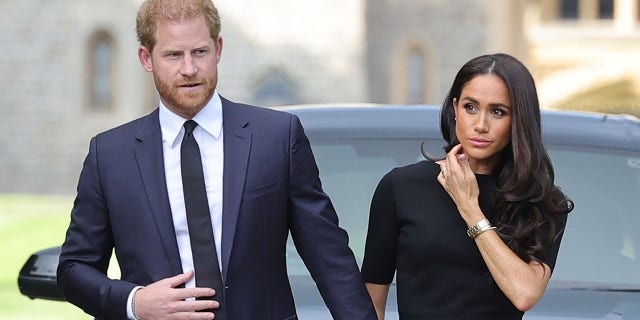 Harry insisted his family wasn't racist but said the episode was an example of unconscious bias.
"King Charles has not seen an increase of protests against the monarchy since the death of Queen Elizabeth II," said Schofield. "Responding to a media Freedom of Information request, London's Metropolitan Police recently confirmed that the Met Police Service has 'not recorded a noticeable increase in protests against the monarchy and its members since September 2022.' — That statement was made March 16."
"I think we're seeing an increase in media coverage of protests because of – not only the coronation – but Harry and Meghan's antics," she shared. "People are trying to gauge how much Harry's behavior is hurting the monarchy. Is he influencing a revolt? As the new sovereign, King Charles has been received relatively well… I'm sure Charles is thankful his pushback has just been an egg or a mean sign."
PRINCE HARRY, MEGHAN MARKLE'S CHILDREN HAVE YET TO BE INVITED TO KING CHARLES' CORONATION: REPORT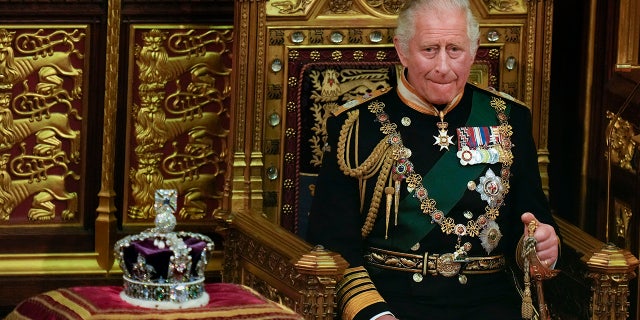 "Surely some of the protesters sympathize with Harry and Meghan, but I don't think that's why they are protesting," Schofield continued. "The U.K. protests and strikes the way we sneeze here in the states. It's constant. I do think some media outlets magnify the protests and try to fit it in the Harry and Meghan drama category."
Charles will be formally crowned on May 6 at London's Westminster Abbey during a ceremony the palace says will combine elements of tradition with modern touches that highlight the changing face of the United Kingdom and the Commonwealth.
The Associated Press contributed to this report.