DULUTH — Milestone watch was in full effect when the Minnesota Duluth men's basketball team took the court for its 2023-2024 season opener against East Central University on Friday, Nov. 10 in Shawnee, Oklahoma.
Preseason NSIC player of the year Drew Blair didn't make Bulldog Country wait long to celebrate its new scoring king, as the electrifying guard became the program's all-time leading scorer with a 33-point performance in a debut to remember.
Blair surpassed former all-time scoring leader Brandon Myer's mark of 2,045 points set in 2019.
"(He's) one of the most unique scorers I've coached in my lifetime as a coach…he scores in a lot of different ways," UMD head coach Justin Wieck said of Blair, who's now in his fifth season with the program as a graduate student. "He's played in a lot of big games for us, so for him to break that with so many games left in the year was awesome."
Blair, a consummate team-first type of guy, was happy to shift the focus back to the team's sky-high aspirations.
"I think he was happy it's kind of over and can just get back to focusing on trying to win," he added.
The Bulldogs expect to do a lot of winning this season with their starting five completely intact from last season's run to the NCAA Division II Elite Eight. The group consists of Blair (19.9 points per game), forwards Austin Andrews (10.7 ppg) and Charlie Katona (12.4 ppg), and guards Joshua Brown (11.6 ppg) and Jack Middleton (8.9 ppg).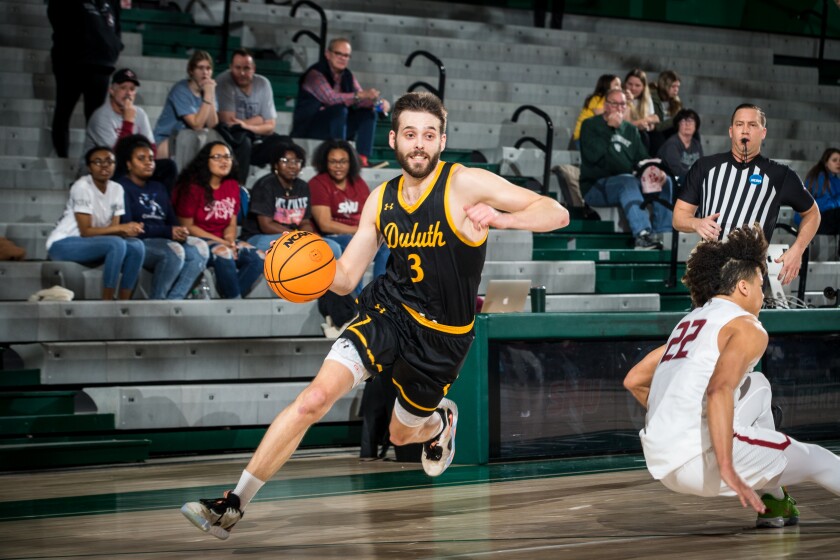 The talented core helped UMD average 79.5 ppg last season which ranked second behind only Northern State in the NSIC.
Above all, the continuity allows them to remain composed no matter what situation is thrown at them over the course of a game, according to senior guard Middleton.
"We've played over 100 games together, a lot of us, so we understand each other and we've been in pretty much any situation possible in games," Middleton said. "I think what it comes down to is knowing how to win games at the end. There's a lot of good teams in our conference and there's going to be a lot of close games, so it's an understanding of how to win close games at the end and executing that."
The veteran leadership and experience possessed by the team is precisely the reason why Wieck isn't overly concerned bumps in the road early on, including a 62-58 loss to Oklahoma Baptist last Saturday, Nov. 11. UMD bounced back last weekend by thumping Parkside 90-66 on Friday and Davenport 105-62 on Saturday to take a 3-1 record into its final weekend of nonconference games, starting Saturday at Michigan Tech.
"We're still trying to find our way. Every season's a new season, right? So we're trying to figure out what works," Wieck shared. "I thought we had a really good road win to start the year. We played well on both ends of the floor. On the second night we just didn't score like we usually do…So for us it's about continuing to get some of our older guys going at the level that they've played at before, but I'm not concerned."
The Bulldogs will have the added benefit of a deep bench with a number of up-and-coming players poised to make an impact, including former Duluth East Greyhound Mattie Thompson, along with redshirt freshmen Nick Katona and Caleb Siwek. Senior Lincoln Meister has also been in the mix this season.
Determining how to get all of them involved in the most efficient way possible remains a work in progress, according to Wieck.
"That's a constant balancing act that we have as a coaching staff and it's a good problem to have… We're hoping that we can continue to see whoever's out there, whatever five guys that are out there at that time, (they can) just focus on winning and trying to make the best basketball plays that we can," he said.
Middleton is confident that the blueprint for success has already been established for the Bulldogs this season, now it's just a matter of getting the job done.
"I think we kind of set the expectations for ourselves and understand what it takes to get to that spot," Middleton said. "We know what we gotta do, it's just executing in practice and working hard everyday to make sure that we can get back to that spot."
Jake Przytarski is a sports reporter for the Duluth News Tribune covering a mix of local prep and collegiate teams.